This is the first of a regular feature- in the third week of each month I will discuss the latest wildlife and environment news- some of it may be local whilst other stories may be national or beyond.
Soggy Owl
Storm Eleanor battered the country earlier in the month and inevitably some wildlife got caught up in it. One such creature was this barn owl who was found in a roadside puddle on the A338(1).
Photo by Chris Pottinger via Bournemouth Echo
Many bird species use preen oil or take dust baths in order to make their feathers waterproof but barn owls can't do this due the comb-like fringed edges on their feathers(2). This adaptation is really useful in enabling them to hunt silently but does not help them in poor weather.
Fortunately, this owl was found by a passing tree surgeon and according to the local council would be looked after until it was well enough to be released. I can't find any information to confirm that this happened but it seems likely the owl would have been fine once it dried out.
Delightful Dolphins
Researchers from Plymouth University have studied records of dolphin sightings around the UK and have discovered a pod of bottlenose dolphins that live off the shores of the South West of England(3). The group consists of 28 individuals which spend most of their time near St. Ives Bay and Mount's Bay in Cornwall but also venture along the coast of Devon and Dorset.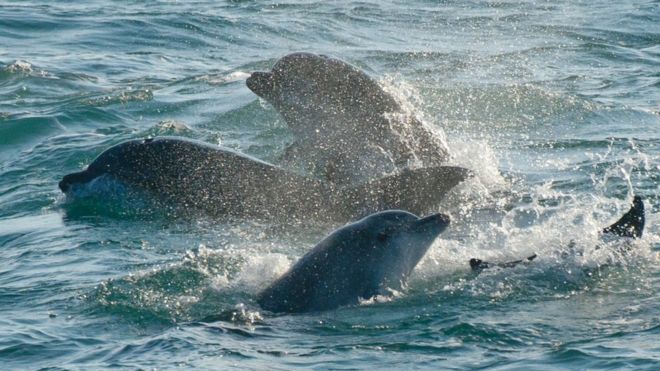 Picture by Daniel Murphy via BBC News
Bottlenose dolphin pods normally consist of around 15 individuals but can range from one pair to over 100(4). They search for prey using sonar and will eat a range of fish as well as eels, squid and shrimps. They are the apex predator in shallow waters which shows how good the ecosystem along this part of the coast must be.
There are currently two other known bottlenose dolphin pods around the UK- one near Cardigan in Wales and the other near Moray Firth in Scotland. I would never have thought that there would be bottlenose dolphins living so close to home!
Fox-Hunting Foiled
I was delighted when Prime Minister Theresa May dropped the planned vote on repealing the fox-hunting ban(5). It had been part of the Conservatives election manifesto but May said:
"My own view has not changed but as prime minister, my job isn't just about what I think about something, it's actually about looking at what the view of the country is. I think there was a clear message about that and that's why I say there won't be a vote on fox-hunting during this parliament."
It's disconcerting that the tory government want to repeal the ban but at least they appear to be listening to the views of the public.
The government has also recently published it's 25-year plan for the environment. Whilst I haven't looked at it in any detail it appears that the plan is full of important promises but there's no evidence that they will be made law or that they will actually be kept.
The Plastic Purge
The public are becoming more aware of the problems of plastic for the environment, especially thanks to the brilliant
Blue Planet II
and both the government and large companies are now trying to do something about it.
The government has now banned products from being manufactured contained microbeads and later in the year products with microbeads will no longer be able to be sold in England(6). Microbeads are solid plastic particles less than 1 milimetre in their largest dimension. They are often used in personal care products and toothpastes.
Because they are so small these microbeads go straight through the sewage system and end up in the water where they are eaten by fish who mistake them for plankton. Like all plastics, they are toxic and have an adverse effect when consumed. They also end up building up along the food chain so anything along the food chain can be harmed by them- including humans.
The government also want to introduce a 'latte levy', a 25p charge on disposable coffee cups similar to the 5p charge on plastic bags(7). These coffee cups can't be recycled and the UK throws away 2.5 billion of them every year. The stupid thing is that it's so easy to buy a reusable coffee cup which is not only far superior to the disposable ones but will also save you money in the long term with most chains offering a discount if you bring your own cup.
Meanwhile, retail companies are acting on growing public pressure and are seeking to phase out the use of plastics. Supermarket Iceland have pledged to remove all plastics on their own-brand products within five years(8). It's hugely popular with the public too as 80% of a sizeable survey for Iceland supported the move.
Other companies too are reducing their plastic use. Waitrose already had a strong plan to reduce the use of plastic and this month have announced they are pledging to stop the use of the difficult to recycle black plastic trays(9). Costa Coffee are ditching plastic straws(10) as are restaurant chain Wagamama(11).
It's all a welcome step in the right direction. More needs to be done though to make these sorts of change law rather than something the companies choose to do and it needs to spread to as many other countries as possible. These sorts of changes are vital if we are to protect our fragile planet and all it's inhabitants.